Shopping Cart
Your Cart is Empty
There was an error with PayPal
Click here to try again
Thank you for your business!
You should be receiving an order confirmation from Paypal shortly.
Exit Shopping Cart
Welcome to Acts 29 Ministries!

Fulfilling the Great Commission Both Home and Abroad
| | |
| --- | --- |
| Posted on April 4, 2009 at 3:54 PM | |
(This journal is in blog format. Scroll down to the bottom to read the first entry)
We finally made it home. It took us two days to make a twelve hour trip. We were flying from Athens to London. Well, London had a record snowfall and Heathrow airport closed. Now we're not talking about a lot of snow - maybe 6-8 inches - but it was more than what they were used to and could handle.
I won't go into the boring story of hours of waiting and long lines. We spent Mon. night in Athens in a nice hotel compliments of British Airways. The next morning we actually left Athens and arrived at Heathrow. The sight that greeted us was one of confusion and chaos. There were thousands of people crowded into that airport. Some flights were going out but no flights were coming in. Since a flight from Chicago couldn't get in, there was no plane for us to leave on.
We arrived at Heathrow around noon. From that time until about 7:00 that night was spent waiting in lines, trying to find our luggage, trying to find a hotel, trying to rebook our flight. Again I won't bore you with all the details. We finally found our luggage so that we could clear customs so that we could go to the hotel that we had to find on our own. Once at the hotel we had to rebook our flight for the next day. We finally were able to get something to eat about 9:00 that night.
One bright spot in all of this was that we made some new friends. The husband and wife were flying from Greece to Chicago to visit their daughter and son-in-law and new grandbaby. The older lady was flying from Greece to Chicago to visit her son. God brought us all together so that we could help them through a very difficult and stressful time. It was a blessing to meet them.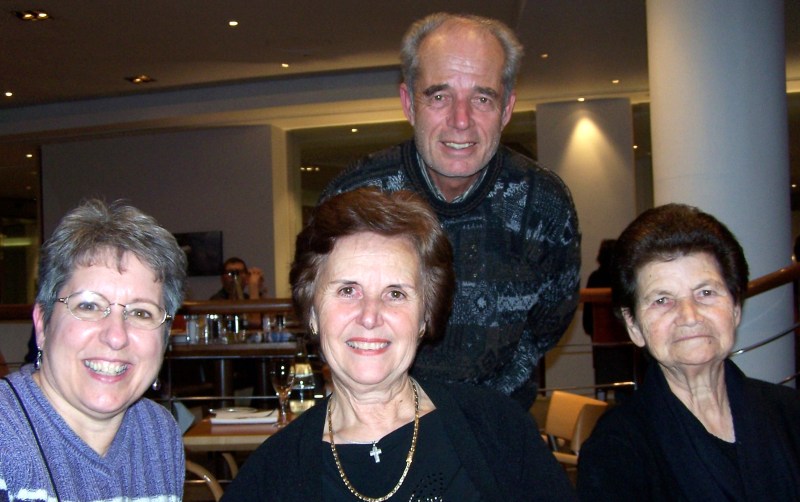 When we did get on the plane we could all finally relax. That is probably the most difficult travel experience we have had. But we did meet some wonderful people. And British Airways treated us very well, for the conditions. If you ever fly to England give British Air a try.
When we arrived in Chicago our son, daughter-in-law, and granddaughter met us. Our ganddaughter wasn't feeling well and we discovered the next day that she had chicken pox. So I (Kay) stayed the next week with her as Linus was scheduled to go to Kent's in North Carolina.
Even after a difficult flight home, I still say this was the trip of a lifetime. Thanks for going with us through this journal. We are looking forward to what the Lord has planned for us in Greece.
Categories: None
/